Trophy 6: Don't Fight It, Kid [ Solo, Threesomes, Oral, Vintage, Collection, Anal, Shot on film ]
Trophy 6: Don't Fight It, Kid [ Solo, Threesomes, Oral, Vintage, Collection, Anal, Shot on film ]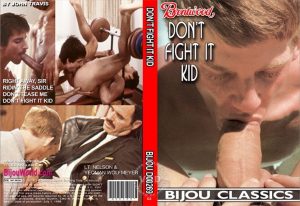 Studio: Brentwood, Trophy Video, Bijou Classics
Genre: Solo, Threesomes, Oral, Vintage, Collection, Anal, Shot on film
Country: US
Director: John Travis
Cast: Allen (Mandingo), Barry (bw), Bob Benson, Chuck (bw), Coach Anderson, Hank (bw), Rusty (bw), Wolfmeyer (bw)
Vintage Loops
1.
Right Away, Sir!
Bob Benson, Wolfmeyer (bw)
Lt. Nelson intentionally has schedule Yeoman Wolfmeyer as his last appointment of the day. Special duty was in order so that Wolfie's efficiency report would be up to standard Lieutenant Nelson is so turned on to Wolfie that he can't resist an attempt to profit from the situation. Wolfie, sizing up the circumstances, decides to drop his pants to show his firm round buns and a big rock hard cock. In no time Lt. Nelson's huge prick swells to a massive hard on and he begins to stroke it as he watches yeoman Wolfmeyer in all his glory working near the bookcases.
Unable to control himself, Lt. Nelson orders Wolfie to climb up on his desk on all fours. Pulling Wolfie's cock back between his legs, Lt. Nelson sends the yeoman's throbbing meat all the way down his throat. Wolfie likes the feeling and instinctively moves his body back and forth driving his hot member faster and deeper. With his cheeks spread and the tight pink hole exposed, Lt. Nelson begins lubricating it with his moist and heated tongue, then slowly eases his huge prick into the tight crevice. Wolfie trembles in pain but soon is rocking back towards the lieutenant's pounding invasion sending rushes of ecstasy racing throughout his entire body. Moving Wolfie into another position to gain easier accessibility, Nelson drives hard and deep at a frenzied pace as the raging passion in his groin rushes up and out mixing with Wolfie's own explosion in a hotbed of inflamed pleasures.
2.
Ridin' the Saddle
Hank (bw) solo
For a Montana farmhand, Hank had come a long way and our cameras have captured his best moments as he saddles up to take you on a ride of sexual excitement. You'll witness his powerful glistening body naked against the saddle and the fever which burns within him. The combined scent of manly sweat and leather fills his nostrils sending bolts of lightning through his aching loins and igniting the release of his raging manhood.
3.
Don't Tease Me
Allen (Mandingo), Barry (bw)
has roommates Barry and Allan becoming fuck buddies.
4.
Don't Fight It, Kid (short) — 1978
Chuck (bw), Coach Anderson, Rusty (bw)
shows Chuck and Coach Anderson overpowering youthful Rusty.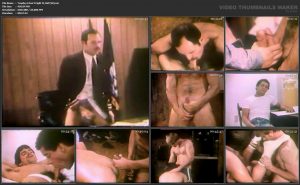 VideoQuality: SD
VideoFormat: AVI
FileExtension: avi
FileSize: 426 MB
Duration: 00:57:14
Resolution: 640×480