Boundguys – Bound Rugby by Nick007
Boundguys – Bound Rugby by Nick007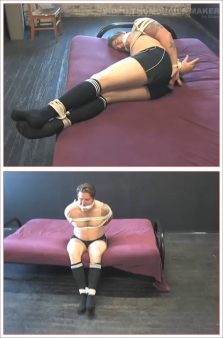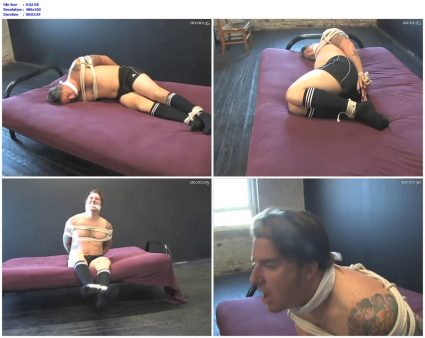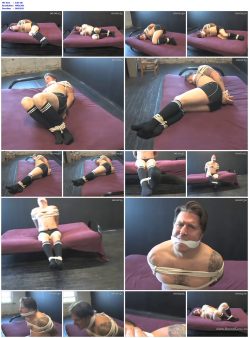 Media info:
Bound Rugby by Nick007.mov
File Size : 0.02 GB
Resolution : 480×360
Duration : 00:03:29
This was Mickey's year. He finally made the rugby team after trying out for the past twoyears. He practiced every day to get better and it was worth it. He had just received aphone call from the captain to come downtown to fill out some paper work. The captainsaid the whole team would be there to welcome him. Mickey eagerly got in his car and drove to his destination.He arrived at an privately owned office building with offices to rent. So it wasn't verycrowded with used offices. He rode the elevator to the top floor, walked down the hall, and knocked on the door. The door opened and it was the captain. (The rest of the team was scattered about the office.) Mickey walked in and shook hands with the captain and the rest of the team.After some pleasantries and some paperwork, the captain told Mickey to take his shirt off. Mickey was a little confused as to why he would be asked that. "Why do you want me to take my shirt off?" he asked."Because we need to take measurements for your uniform." the captain replied."Oh! OK Mickey said while taking his shirt off. He revealed a nice well muscled chestwith tattoos. Very nice to look at. The captain tossed him a pair of very short rugbyshorts and long socks to put on. Mickey did as he was told and put them on.One of the players walked over and with a piece of rope began to take "measurements".Then he pulled Mickey's arms behind his back and began lashing the rope aroundMickey's wrists."Ummm what's going on?" Mickey asked."No worries bro. This is just Tim's way of measuring you for your uniform." the Captain said."By tying me up?""You wanna join our team right?" the Captain asked. Mickey nodded. "Good. Then you do things are way. Now shut up and let Tim do his job."Mickey did as he was told, but began to worry more and more as more rope was added around his muscled chest. Other teammates brought in a futon into the middle of the room. "And what is that for?" he asked."You know, Mickey, you talk to much." The Captain said as he shoved a white bandana into Mickey's mouth and tied the to ends behind Mickey's head.That's when it hit Mickey. He was being hazed. All of his worries just washed away.Tim the "Tailor" pushed Mickey onto the bed and tied his feet together. Mickey let out a few moans and groans for the team. However the Captain wasn't buying it."By now you figured out that we are hazing you." the Captain said. Mickey nodded."Well good. I'd rather you'd believe that and be more cooperative. However the truth is we found out that you are the son of the wealthy president and CEO of the O'Shea corporation. Our team need money. So we are going to keep you hear till Daddy pays up."Mickey's heart sank. His father was but a humble farmer. They have him confused with someone else. He tried to talk through the gag but it was no use. They wouldn't believe anything he said at that point anyways."Now you sit tight while we get your daddy on the line." the Captain said. All of theteammates left with the captain.Mickey struggled against the ropes but it was of no use. The more he struggled thetighter the ropes got. He began getting more and more scared when he thought about what they were going to do him when they find out that he's not the guy they were looking for.A hour went by and he had still not gotten loose yet. He worked on trying to push the gag out so he could scream for help but just he got it out, the Captain came back into the room and put his hand over Mickey's mouth."Shhhh!" he said as he then put the gag back in Mickey's mouth. "So we got a hold of your daddy, and I'm afraid he's not going to pay. He says his son is in his office as theyspeak." He laughed. "What a moron! Doesn't even realize we just kidnapped him. So I guess we are going to have to send him a message. I think one finger ought to do it."Mickey screamed through the gag. The gag plus the Captain's hand muffled the scream to a low noise level. "Tim! Bring in the equipment!" he ordered.Mickey was now trembling with fear. He couldn't believe this was happening to him. In walked Tim holding a cooler, and he walked behind the bed and set it down. The captain was holding Mickey down so he couldn't see behind him. He heard the cooler open."Alright Tim. Open him up." the Captain ordered.Mickey flinched when he felt something metal touching his finger. Then a loud noisefollowed by silence. Why wasn't he feeling any pain, Mickey wondered. He looked up atthe Captain, now with a shit eating grin."Did you really think there was even an O'Shea Corporation?" he said. All the teammates walked back into the room laughing with beers in their hands. Tim just opened a beer bottle behind Mickey to scare him. "You were right the first time, Mickey. Nothing but hazing. We got you good." he said as he moved the gag down from Mickey's lips."We've all gone through it."It took a moment to let it all sink in, but he laughed. "So can you untie me now?" heasked."Nope." the Captain said pushing the gag back in. "You got to get out on your own. You see every new member gets hazed this way. Then the next year the newest member gets to do the tying. Unfortunately for you, Tim, has a fetish about tying guys up. So I don't think you'll be getting out anytime soon. But in the meantime, lets get this party started!"Someone turned on the radio, someone set up beer pong, and everyone continued to drink more beer while Mickey rolled on the bed trying to get loose. Tim sat on the bedand assured him that he would teach him all he knows about ropes for next year so he can get his revenge."Hell, man. I'll even let you practice tying me up." Tim said.Mickey was looking forward to the next year.Then End.


DOWNLOAD OR WACH ONLINE
https://tezfiles.com/file/Bound Rugby by Nick007
IF FOR ANY REASON YOU CANNOT BUY PREMIUM ACCESS CLICK AND TELL!
LINK DOES NOT WORK? CLICK AND TELL!
If you have Premium access, you can download unlimited files
If the files are not available to download, it means they were blocked by the copyright owner. In order to download blocked files, you need to have a premium account. Get an PREMIUM ACCOUNT for Faster & Unlimited download, with NO waiting time!!!