Boundguys – Tempers Flare by Caitiff
Boundguys – Tempers Flare by Caitiff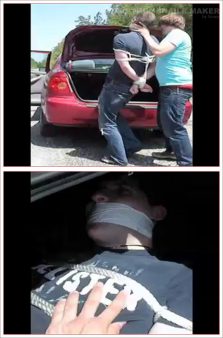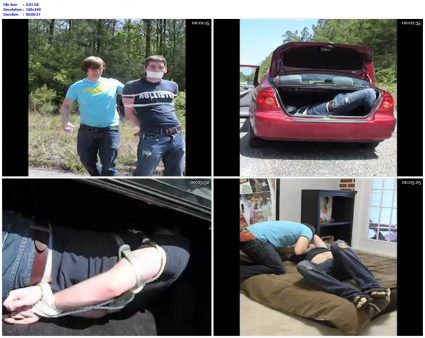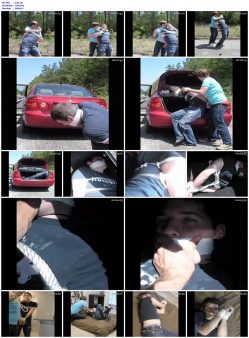 Media info:
Tempers Flare by Caitiff.mov
File Size : 0.01 GB
Resolution : 320×240
Duration : 00:06:17
:"Fuck You!" Todd yelled at his asshole of a boyfriend."No, fuck you!" his asshole of a boyfriend yelled back.And so it went, each screaming at the other louder and louder. Finally Todd ended it likehe always did, by running away. He practically jumped out of the car while it still moving.Fortunately his boyfriend wasn't' such an asshole that he didn't hit the breaks, probably saving Todd from breaking his neck.Todd got out of the car, slammed the door and stormed off. Having had enough of his bullshit, Todd's boyfriend drove off.Great what now? Todd asked himself as he looked up and down the long deserted country road. He tried his cell phone only to get no bars at all."Shit!", Todd yelled at no in particular. This was not the first time his temper had gotten him in trouble, Just an hour before he had insulted a guy at a bar where he and his boyfriend had been drinking. The guy had been livid. Good thing for Todd that his friends had been there.Todd heard a car coming up from behind. Great a ride, Todd thought but soon changed his mind when he saw the driver. It was that guy from the bar. Oh great, this day was just getting better and better."Hey!", The guy said as he got out of his car."Hey what?", Todd retorted. Admittedly neither was going to win any come back awards.The smart thing would have been to leave it at that, to walk away. However, Todd's temper had already flared up again and he was not going to back down. In a display of bravado, Todd threw his jacket onto the ground.And so the cycle continued. Todd gave a snide comment, the guy retorted and on it went. What Todd did not expect however, was how quickly it got physical. The guy grabbed Todd. Despite his best efforts, Todd couldn't' break loose. Then things got worse when his attacker took out some rope.Todd had never been tied up before and couldn't believe how quickly he was made helpless. Before he knew what was going on, Todd found his hands bound tightly behind his back and more rope around his chest. Now tied up Todd began to realize how screwed he really was."Help! Somebody help me..mmmmpphh!", Todd's plea for help were cut off as the guy covered Todd's mouth with tape. Soon nothing could be heard from Todd but incoherent moaning through his tape gag."Not so smart mouthed now, are you?", Todd's attacker gloated as he shoved his captive around to the back of his car.Todd did not like where this was going. Clearly he was now being kidnapped. The guy was forcing him into the back of his car. Unfortunately Todd had even less power to resist then he had before, being bound and gagged.Though he tried to fight, Todd soon found himself stuffed into the trunk."Mmmpphhaammmm!", Todd tried to make the guy see reason but the gag made everything he said into pitiful moaning. Desperately Todd tried to struggle to get free from the ropes but the ropes held him fast. Todd's attacker seemed to really enjoywatching his hostage squirm in the bondage.Hope you are having fun because you're going to stay bound and gagged for a long time. I have got so much planned for you and there's nothing you can do or say about it.""Mmmm!", was all Todd could say before the door of the trunk was slammed shut. Todd could hear the car start soon after and begin driving off to who knew where.In hindsight, Todd's boyfriend had not been such an asshole after all. If only Todd had kept his big mouth shut. Now he had a gag to do it for him. Too bad Todd had learned that lesson too late.The End?


DOWNLOAD OR WACH ONLINE
https://tezfiles.com/file/Tempers Flare by Caitiff
IF FOR ANY REASON YOU CANNOT BUY PREMIUM ACCESS CLICK AND TELL!
LINK DOES NOT WORK? CLICK AND TELL!
If you have Premium access, you can download unlimited files
If the files are not available to download, it means they were blocked by the copyright owner. In order to download blocked files, you need to have a premium account. Get an PREMIUM ACCOUNT for Faster & Unlimited download, with NO waiting time!!!